Electric scooter BLUETOUCH BT1000
Electric scooter BLUETOUCH BT1000
Promotion -20%
Range up to 60 km
LED backlit
2 gifts
---
New for demanding sports riders! The sporty and high-performance BT1000 with its high power and 1,000 watts will excite you and open up new riding possibilities on the road. The strong 52V lithium battery with a high capacity of 20.8 Ah can carry up to 150 kg and reliably travel up to 60 km on a single charge! Comfort for your electric rides is provided by cruise control, perfect suspension and a clear backlit display with intuitive controls and an NFC lock. You can ride even in low visibility, the e-scooter is equipped with powerful LED headlights and a 3D rear reflector, side lights and a spectacular LED backlight that you can adjust using the app.
More
Product code: U847 Shipping and Payment
Standard price
1 854,49 EUR
.
You save
20%
(367,20 EUR)
1 487,29 EUR incl. VAT
+ Portable compressor with powerbank and service voucher (0,04 EUR incl. VAT)
New for demanding sports riders! The sporty and high-performance BT1000 with its high power and 1,000 watts will excite you and open up new riding possibilities on the road. The strong 52V lithium battery with a high capacity of 20.8 Ah can carry up to 150 kg and reliably travel up to 60 km on a single charge! Comfort for your electric rides is provided by cruise control, perfect suspension and a clear backlit display with intuitive controls and an NFC lock. You can ride even in low visibility, the e-scooter is equipped with powerful LED headlights and a 3D rear reflector, side lights and a spectacular LED backlight that you can adjust using the app.
More
Product code: U847 Shipping and Payment
KEY FEATURES
Electric scooter with 1,000 watts of power and a range of up to 60 km
Speed up to 45 km/h
Sporty, rugged look that commands respect
The total weight including the battery is 28.2 kg
Powerful 52V Li-Ion battery with a superior capacity of 20.8 Ah
Load capacity up to 150 kg
10" inflatable suspension wheels
LED headlights, 3D rear reflector, side additional lights
Colour LED backlighting adjustable via the app
Quality front and rear disc brakes you can rely on
Improved folding mechanism with security
Cruise control
Wide handlebars that you can safely lean on
Clear backlit display
NFC key to lock the scooter
THE E-SCOOTER FOR AWES SPORTS PERFORMANCE
The BT1000 is an e-scooter for severe guys. High-quality air suspension and inflatable wheels will hold you up even on sharp descents. The scooter's frame is made of aerospace-grade aluminium with excellent strength properties and a load capacity of 150 kg. The cruise control for constant speed adjustment built into the handlebars enhances your riding pleasure. The e-scooter handles climb with ease. The construction is designed in such a way that the scooter folds very easily in just a few seconds. The ideal toy for experienced riders who are not afraid of it. Competing with the "big" top brands at an incredible price. The e-scooter has three adjustable gears. At the highest speed, it reaches speeds of up to 45 km/h. The production of the e-scooter meets the quality certification according to ISO 9001:2008.
POWERFUL MOTOR, STRONG BATTERY AND A RANGE OF UP TO 60 KM 
The e-scooter is equipped with a high-quality and powerful lithium battery, thanks to which you can count on a long-range, plus almost all the time the same power until the battery is completely discharged. The battery is electronically protected against overcharging and undercharging. 
#dojedemedal #electricbikeswithoutcompromises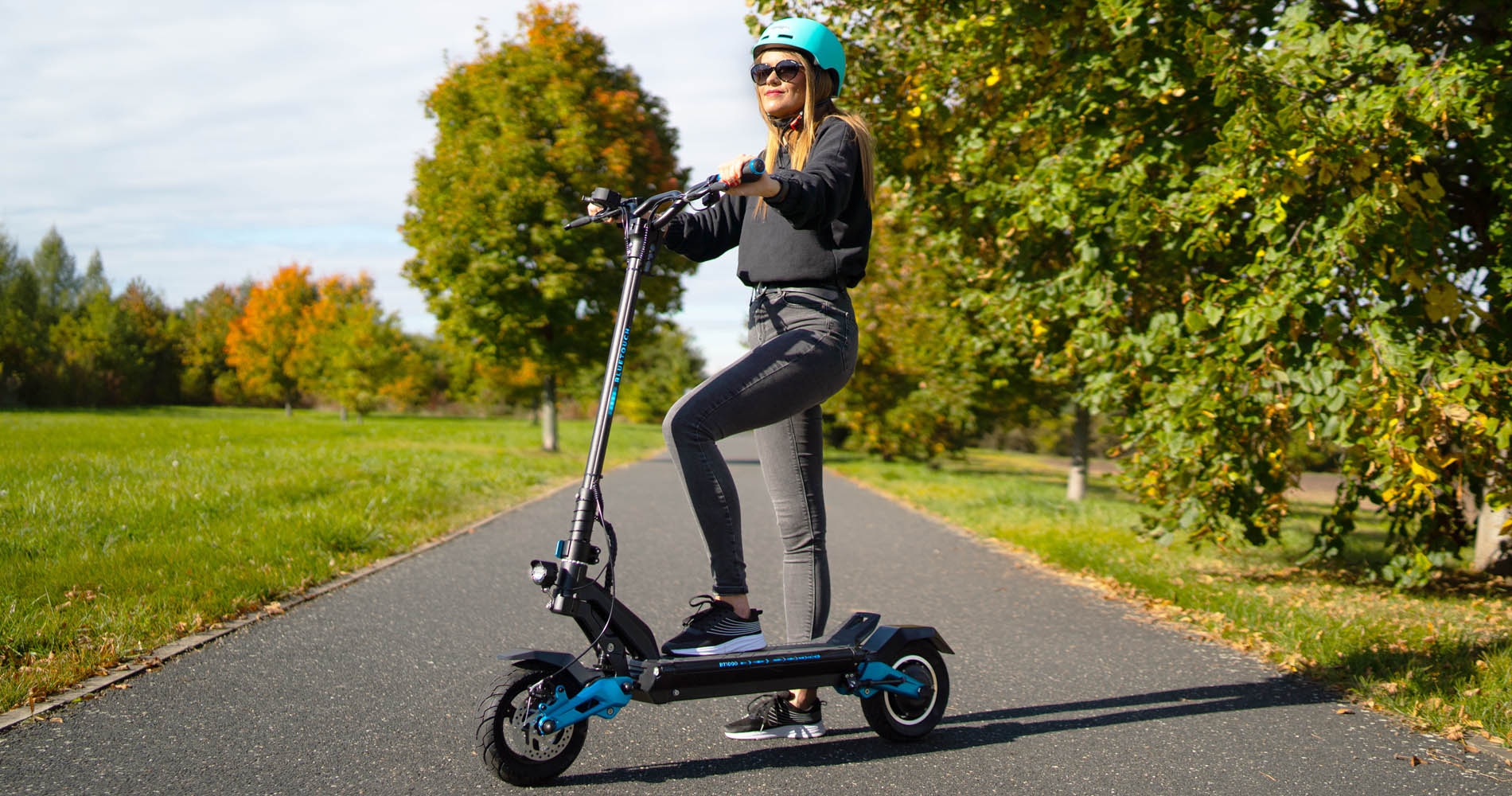 | | |
| --- | --- |
| Model of e-scooter | BT1000 |
| Colour | |
| Battery | 52 V Li-Ion, 20.8 Ah |
| Power | 1000 W |
| Suspension | Předního i zadního kola |
| Max. speed | 45 km/h |
| Distance | 60 km |
| Max. load | 150 kg |
| Tyre | 10" air |
| Security lock | NFC key |
| Cruise control | Yes |
| Folding mechanism | Yes |
| LED backlit | Yes |
| Weight | 28,2 kg |
| Recycling fee | 25,21 |