Electric scooter BLUETOUCH BTX251 BLACK
Electric scooter BLUETOUCH BTX251 BLACK
New
Range 30 km
APP
LED backlit
2 gifts
---
New BTX251 urban electric scooter with a colour display! 250 W motor, 30 km range, 7.8 Ah/36 V Li-Ion battery, blue LED backlighting for better visibility and safe riding, cruise control and rear wheel suspension to make your travel even more comfortable, BLUETOUCH app with the possibility of locking the machine, easy handling, quick folding system, full tubeless wheels that will never get punctured! More
Product code: U938 Shipping and Payment
424,50 EUR incl. VAT
+ Compact waterproof bag for a handlebar (0,04 EUR incl. VAT)
New BTX251 urban electric scooter with a colour display! 250 W motor, 30 km range, 7.8 Ah/36 V Li-Ion battery, blue LED backlighting for better visibility and safe riding, cruise control and rear wheel suspension to make your travel even more comfortable, BLUETOUCH app with the possibility of locking the machine, easy handling, quick folding system, full tubeless wheels that will never get punctured! More
Product code: U938 Shipping and Payment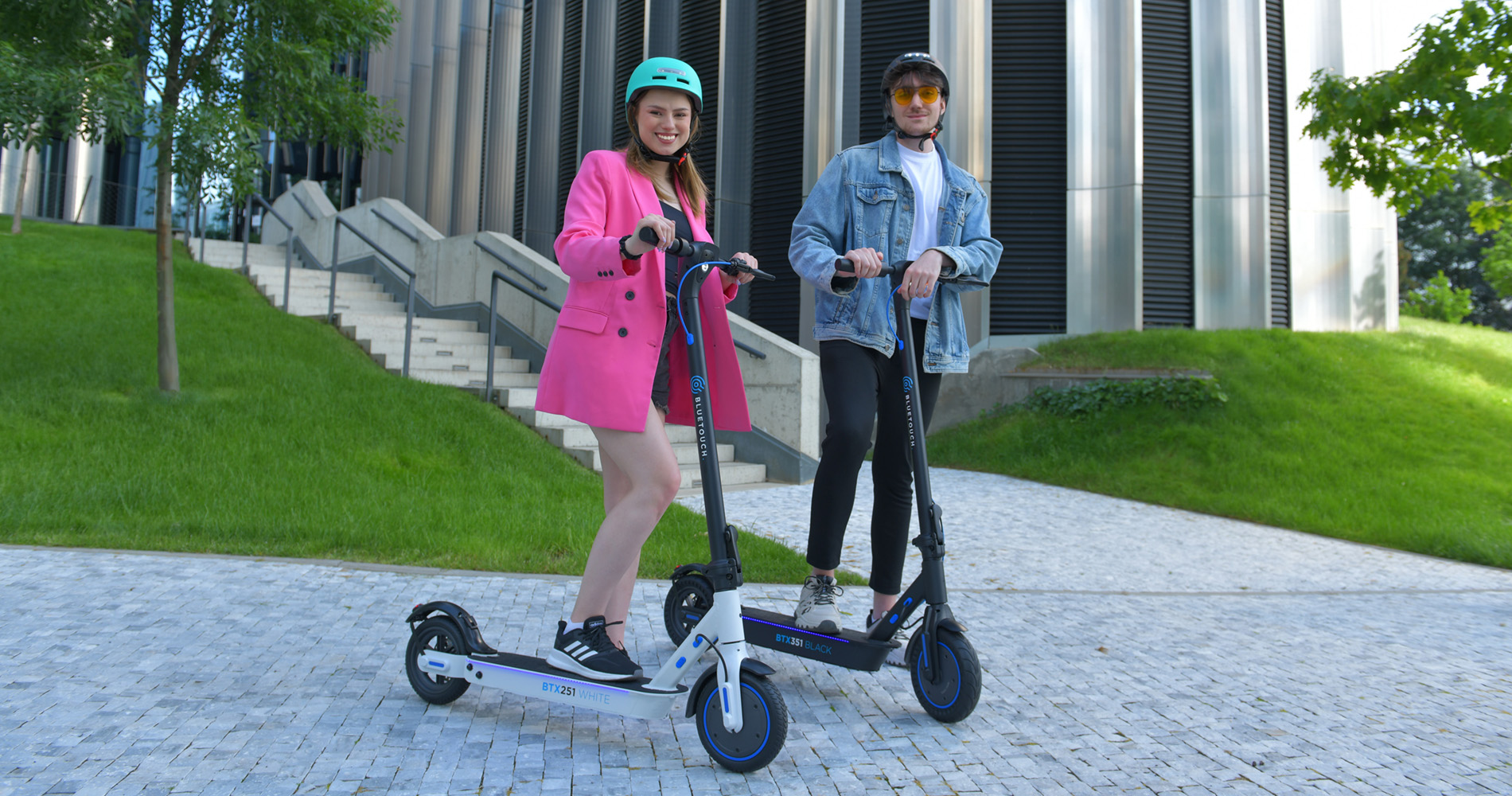 With this stylish new e-scooter, you'll get the perfect freedom of movement in the city, a lot of fun and fast personal transport. The own BLUETOUCH app, cruise control and rear-wheel suspension make your ride even more comfortable. Thanks to the high-quality battery, you can travel up to 30 km on a single charge. A blue LED strip and 3D reflectors illuminate the bottom of the footpeg when you're riding.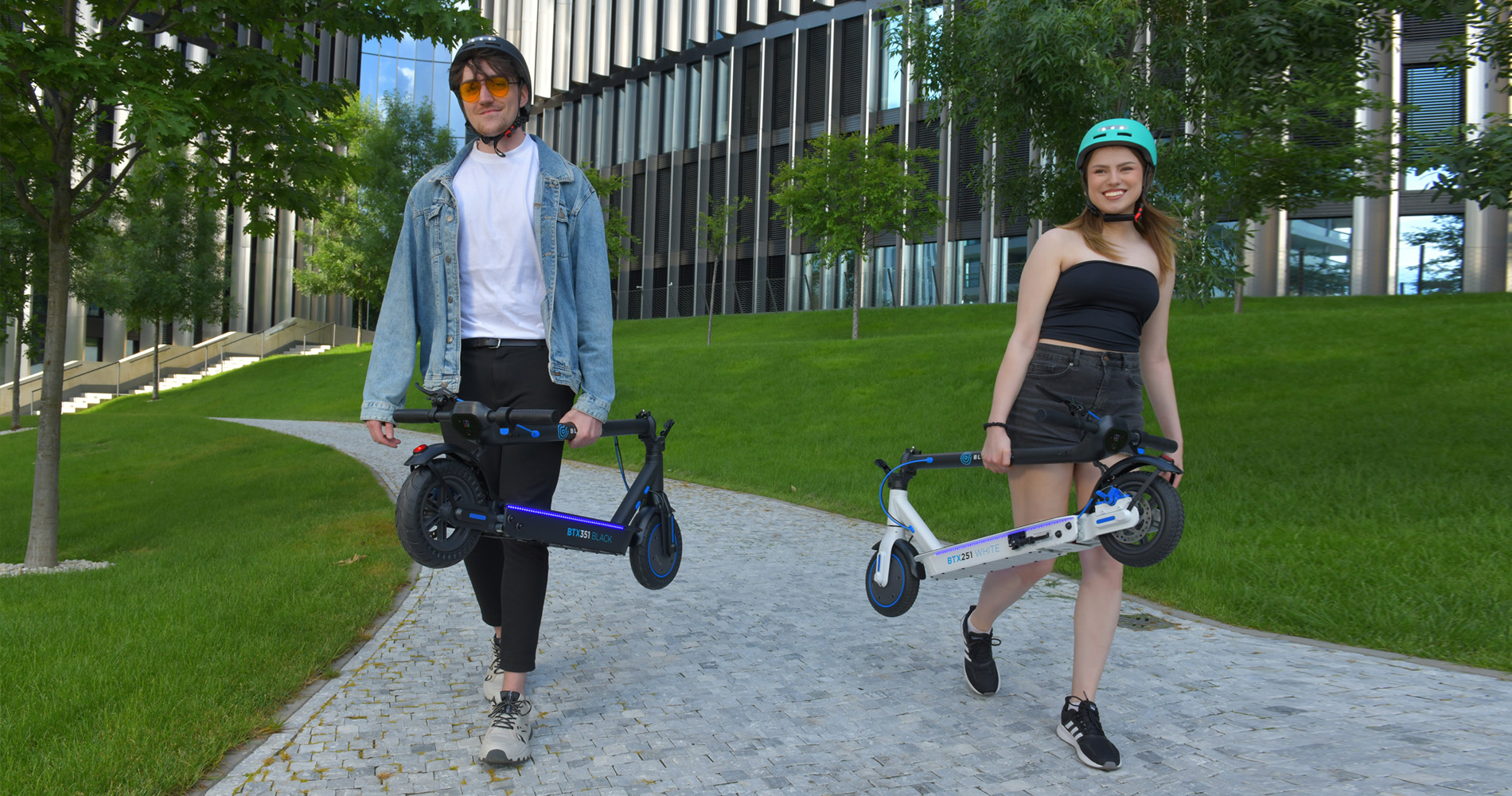 Key features
250 W electric scooter with a range of up to 30 km
Modern look in three colours
Total weight including battery is 14 kg
36V Li-Ion battery with 8 Ah capacity
Load capacity up to 100 kg
8.5" perforated suspension wheels
Cruise control
Recuperation
LED headlight, rear reflector
Blue LED strip 
Quality disc brakes you can rely on
Suspension rear wheel
Reinforced mudguard, more massive front bar and wider handlebars for a safer ride
2 gears
New colour display and BLUETOUCH mobile app with a password lock option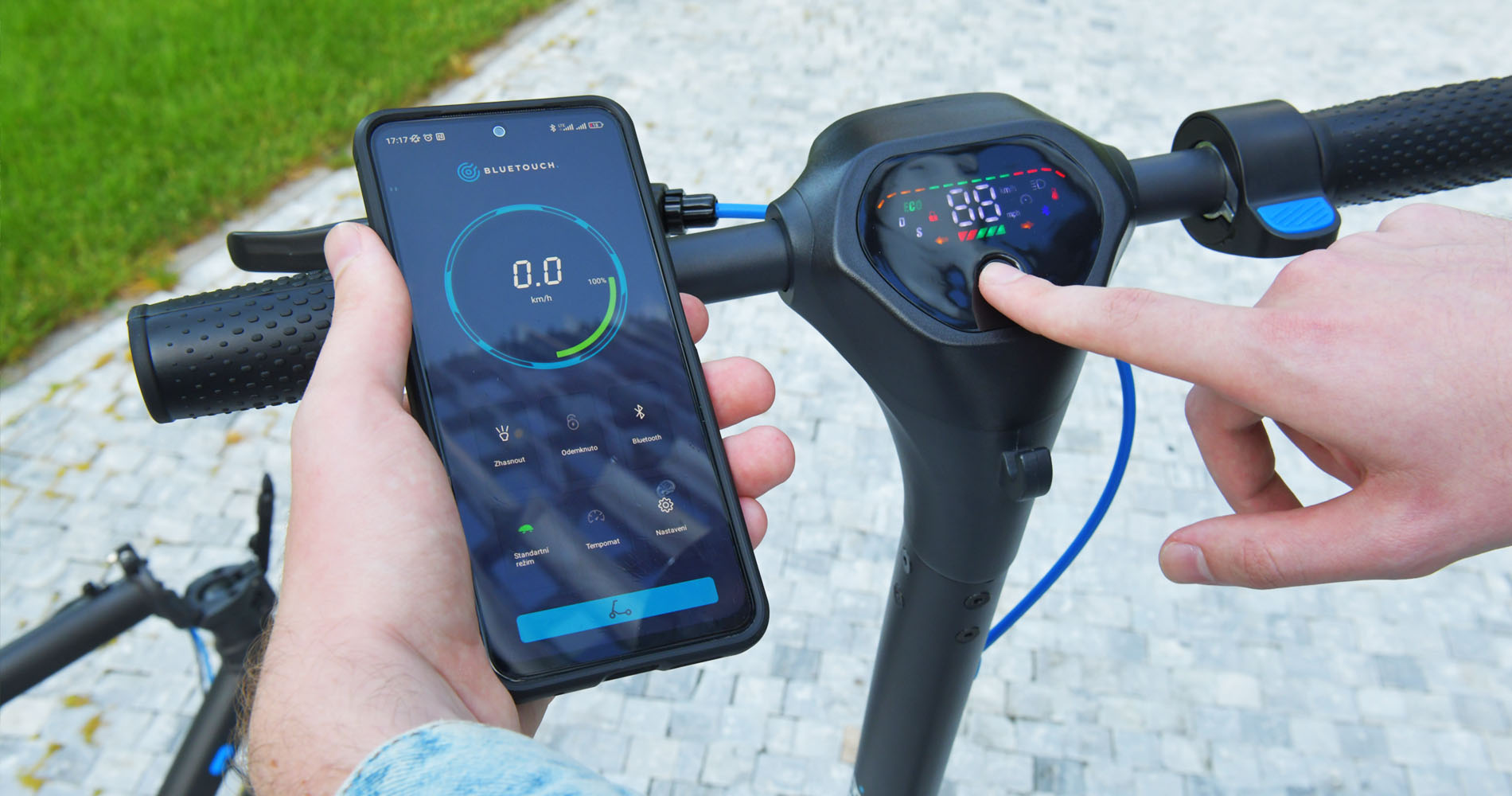 Comfort above all else
Compact e-scooter with stable performance. Adjustable suspension and perforated wheels give you the comfort you need when riding. The frame is made of aerospace aluminium with excellent structural properties. Thanks to the quick folding mechanism, you can conveniently carry the folded scooter to public transport in a few seconds, or fold it in the trunk of your car or under your desk in the office.
The BTX251 has two preset motor power levels. The more cautious driver can reduce the top speed from 25 km/h to 15 km/h. The production of the scooter meets ISO 9001:2008 quality certification.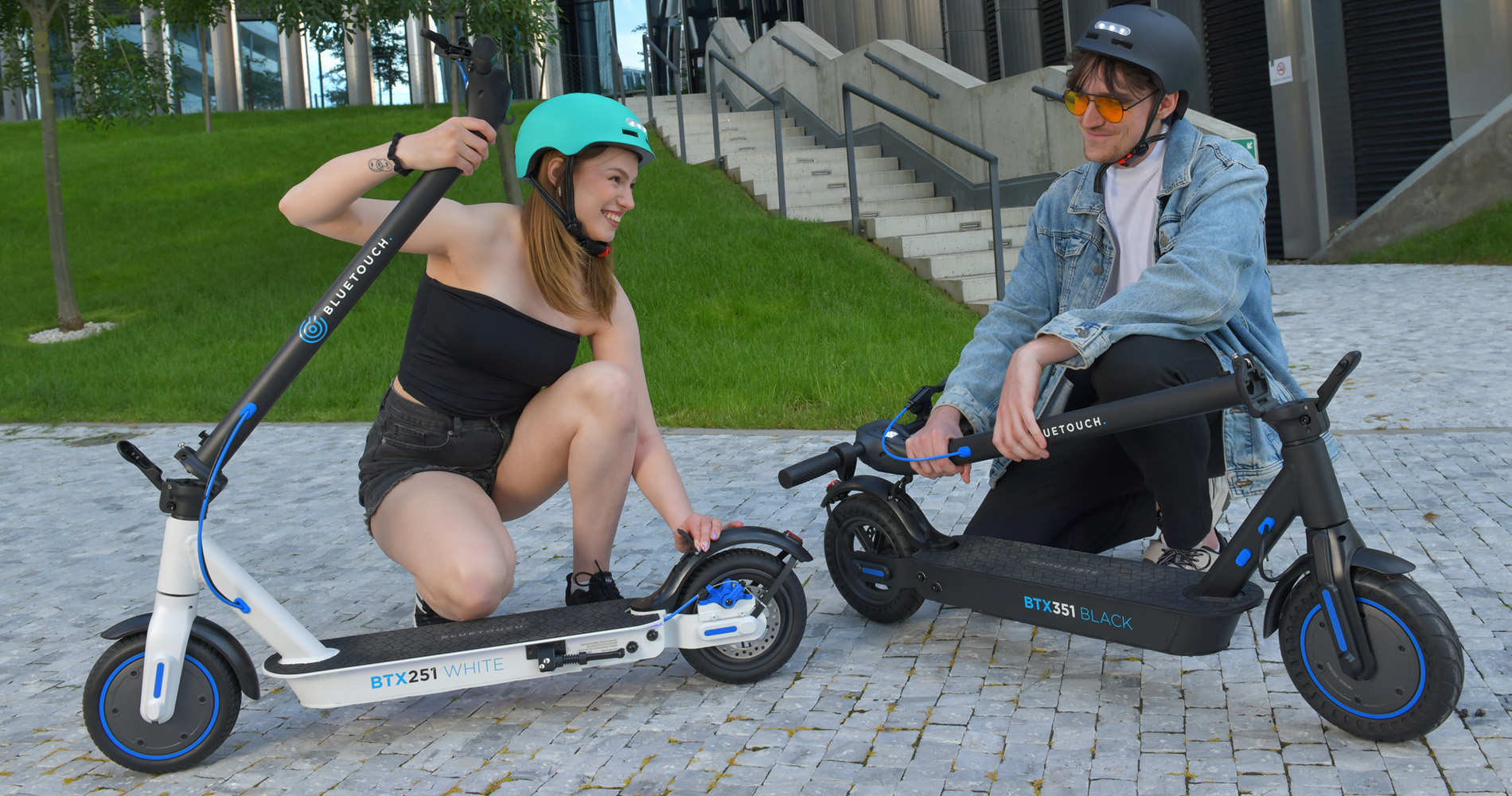 High-quality motor, stable battery, range up to 30 km
The electric scooter is equipped with a high-quality lithium battery that guarantees a long range and also maintains the same power almost all the time until the battery is completely discharged. The battery is electronically protected against overcharging and undercharging.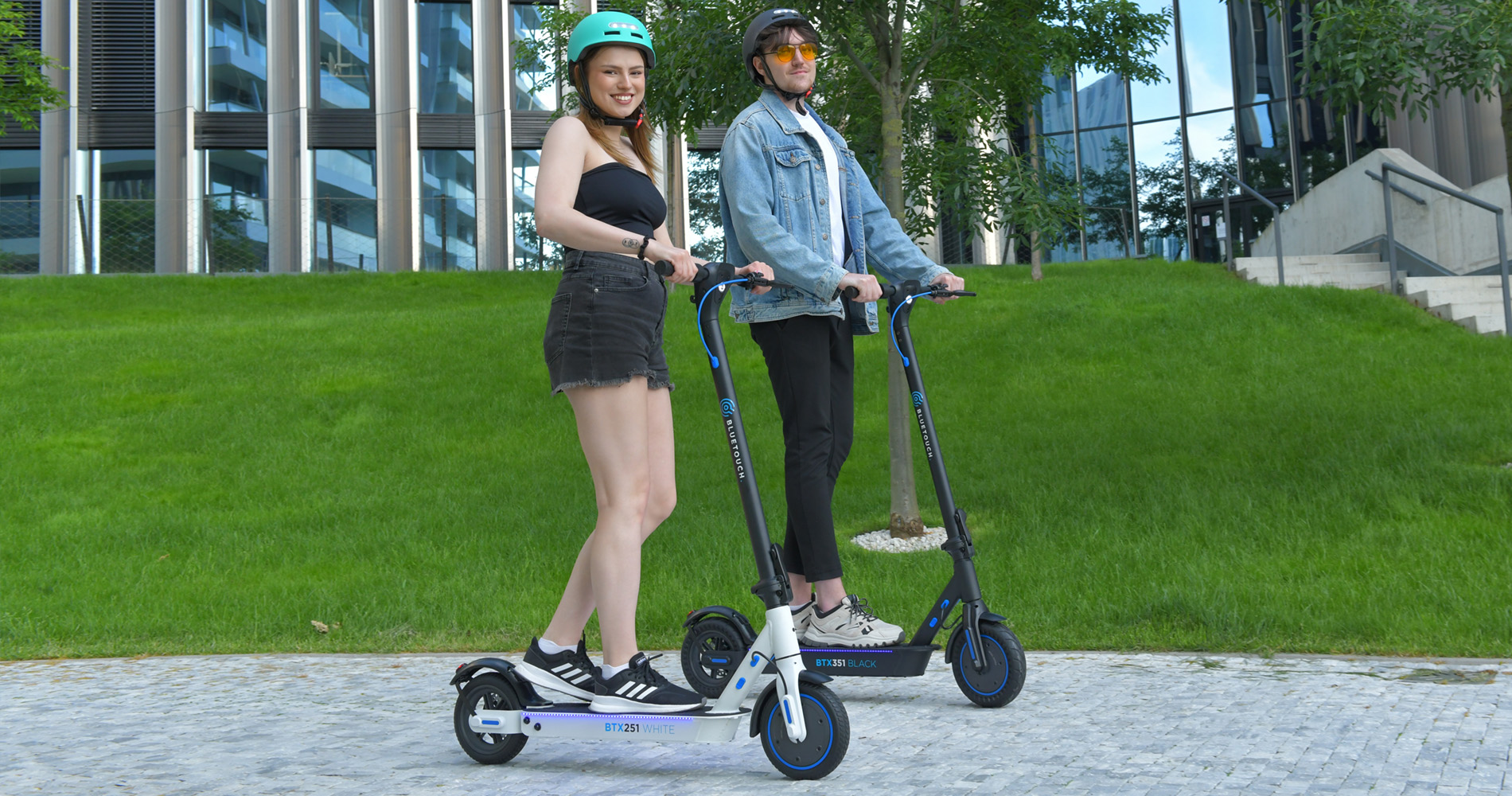 | | |
| --- | --- |
| Model of e-scooter | BTX251 |
| Colour | |
| Battery | 36 V/7.8 Ah Li-Ion |
| Power | 250 W |
| Brakes | Rear disc brakes |
| Suspension | Rear tyre |
| Max. speed | 25 km/h |
| Distance | 30-40 km |
| Max. load | 100 kgs |
| Tyre | 8,5" solid |
| Display | Colour LCD display with BLUETOUCH APP |
| Security lock | In aplication |
| Cruise control | Yes |
| Folding mechanism | Yes |
| LED backlit | Yes |
| Weight | 14 kg |