Electric scooter BLUETOUCH BTX351 WHITE
Electric scooter BLUETOUCH BTX351 WHITE
New
Range up to 40 km
APP
LED backlit
2 gifts
---
Top new product for this summer! 350 W motor, 40 km range, 11.6 Ah/36 V Li-Ion battery, LED backlighting for better visibility and safe riding, cruise control and rear wheel suspension for more comfort on the road, BLUETOUCH app with the ability to lock the machine, quick 2-second folding system, larger 10" tubeless wheels that will never get punctured! Go further with us! More
Product code: U940 Shipping and Payment
616,09 EUR incl. VAT
+ Compact waterproof bag for a handlebar (0,04 EUR incl. VAT)
Top new product for this summer! 350 W motor, 40 km range, 11.6 Ah/36 V Li-Ion battery, LED backlighting for better visibility and safe riding, cruise control and rear wheel suspension for more comfort on the road, BLUETOUCH app with the ability to lock the machine, quick 2-second folding system, larger 10" tubeless wheels that will never get punctured! Go further with us! More
Product code: U940 Shipping and Payment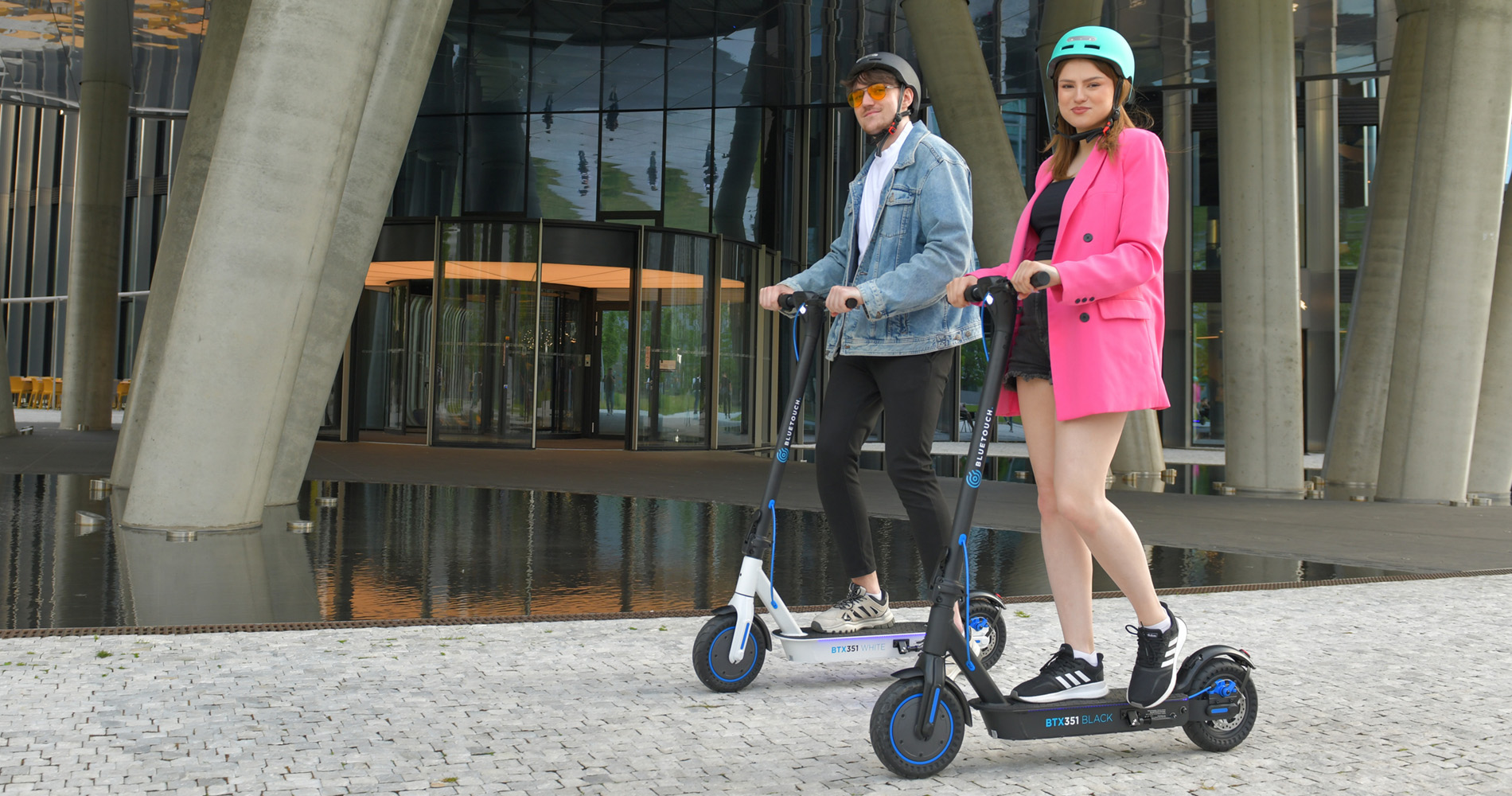 We would like to introduce the BLUETOUCH BTX351 e-scooter in a minimalistic design. Will you prefer the colour magical black or snow white?  The reinforced construction and perfectly tuned quick folding mechanism make this scooter perfect for everyday rides around town. With 350 W of power, you can travel up to 40 km on a single battery charge. Large 10" perforated tyres and adjustable rear wheel suspension tackle all terrain bumps and gentle inclines. A clear backlit display with intuitive controls provides comfort for your electric rides. You can ride even in low visibility, the scooter is equipped with a front LED headlight and a rear reflector. The bottom of the scooter is effectively illuminated by a blue LED strip when riding. The e-scooter is equipped with a Bluetooth module, thanks to which you can also control the scooter via your own mobile app.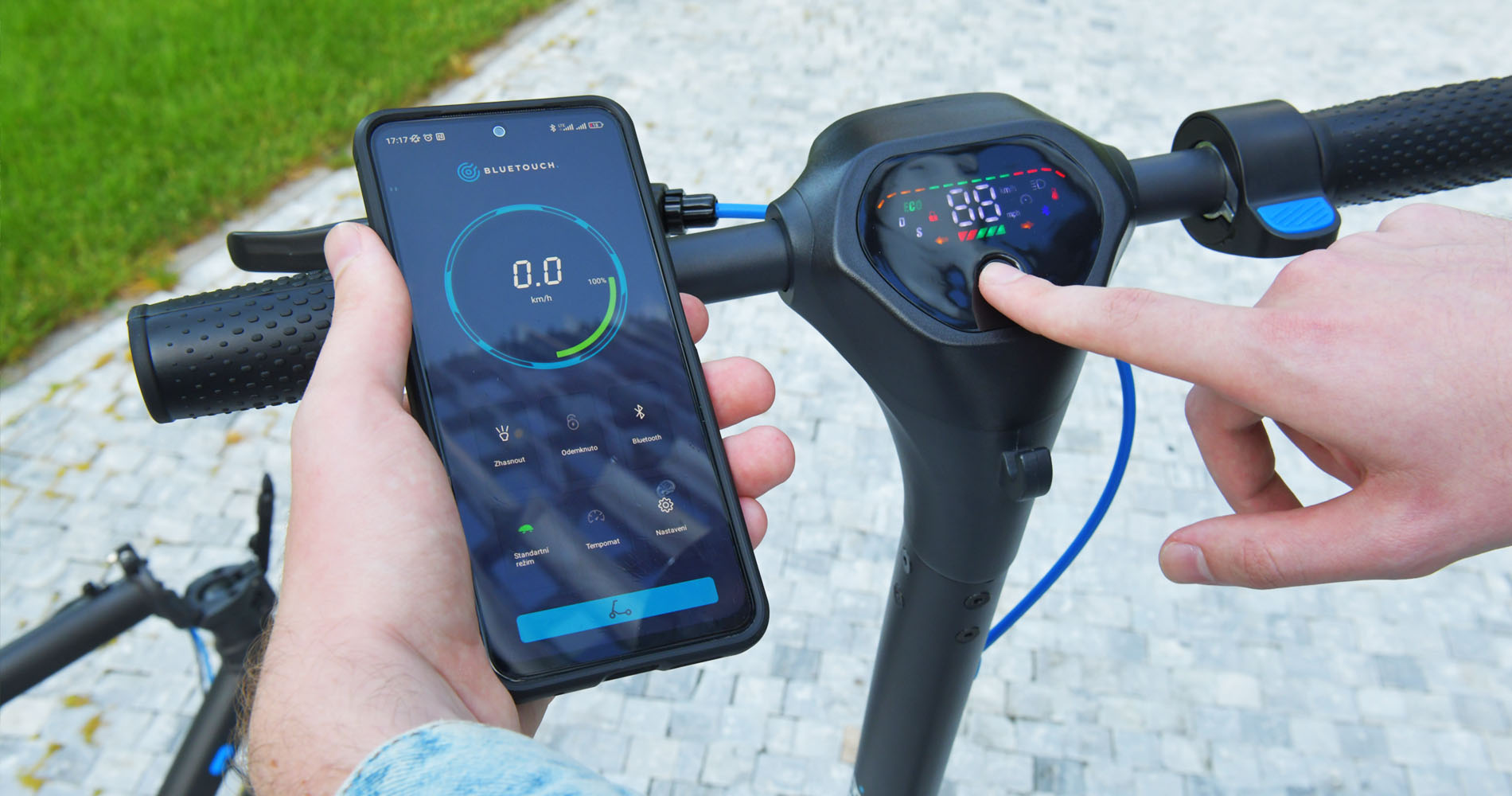 Key features
350 W electric scooter with a range of up to 40 km
Total weight including battery is 17 kg
36V Li-Ion battery with a capacity of 11.6 Ah
Load capacity up to 100 kg
Perforated honeycomb 10" wheels that won't get punctured
LED headlight, rear reflector
LED strip on the bottom edge of the scooter
Quality disc brakes you can rely on
Cruise control
Recuperation
Reinforced front bar and wide handlebars you can lean into
Suspended rear wheel for comfortable city travel
2 gears 
Clear backlit display and new BLUETOUCH mobile app to conveniently control and even lock the scooter.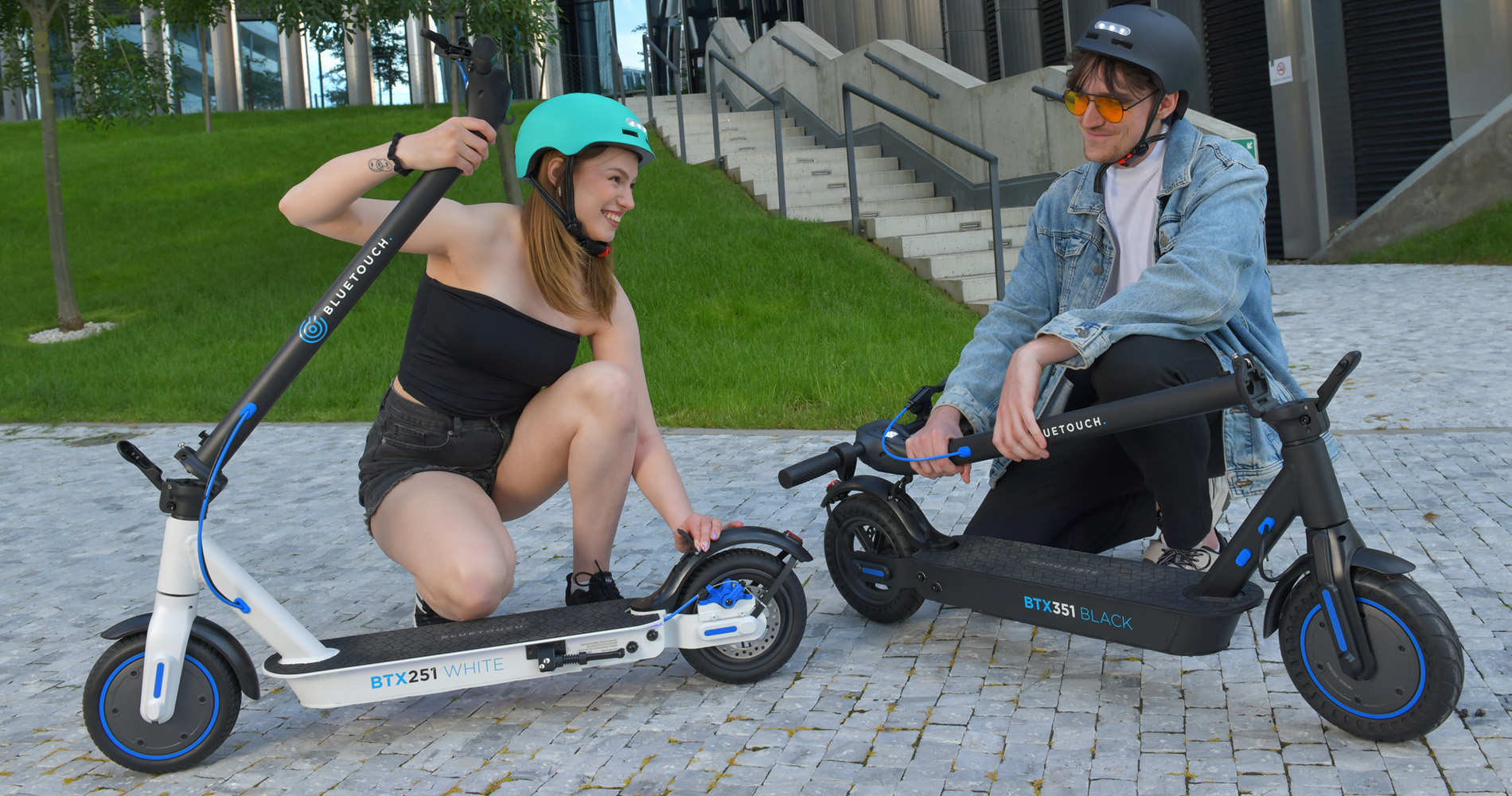 Comfort above all
A compact e-scooter with stable performance. Adjustable suspension and perforated wheels give you the comfort you need when riding. The frame of the e-scooter is made of aerospace aluminium with excellent structural properties. Thanks to the quick folding mechanism, you can conveniently carry the folded e-scooter to public transport or fold it into the trunk of your car in a few seconds.
The BTX351 has two preset motor power levels. The more cautious driver can reduce the top speed from 30 km/h to 15 km/h. The production of the scooter meets the ISO 9001:2008 quality certification.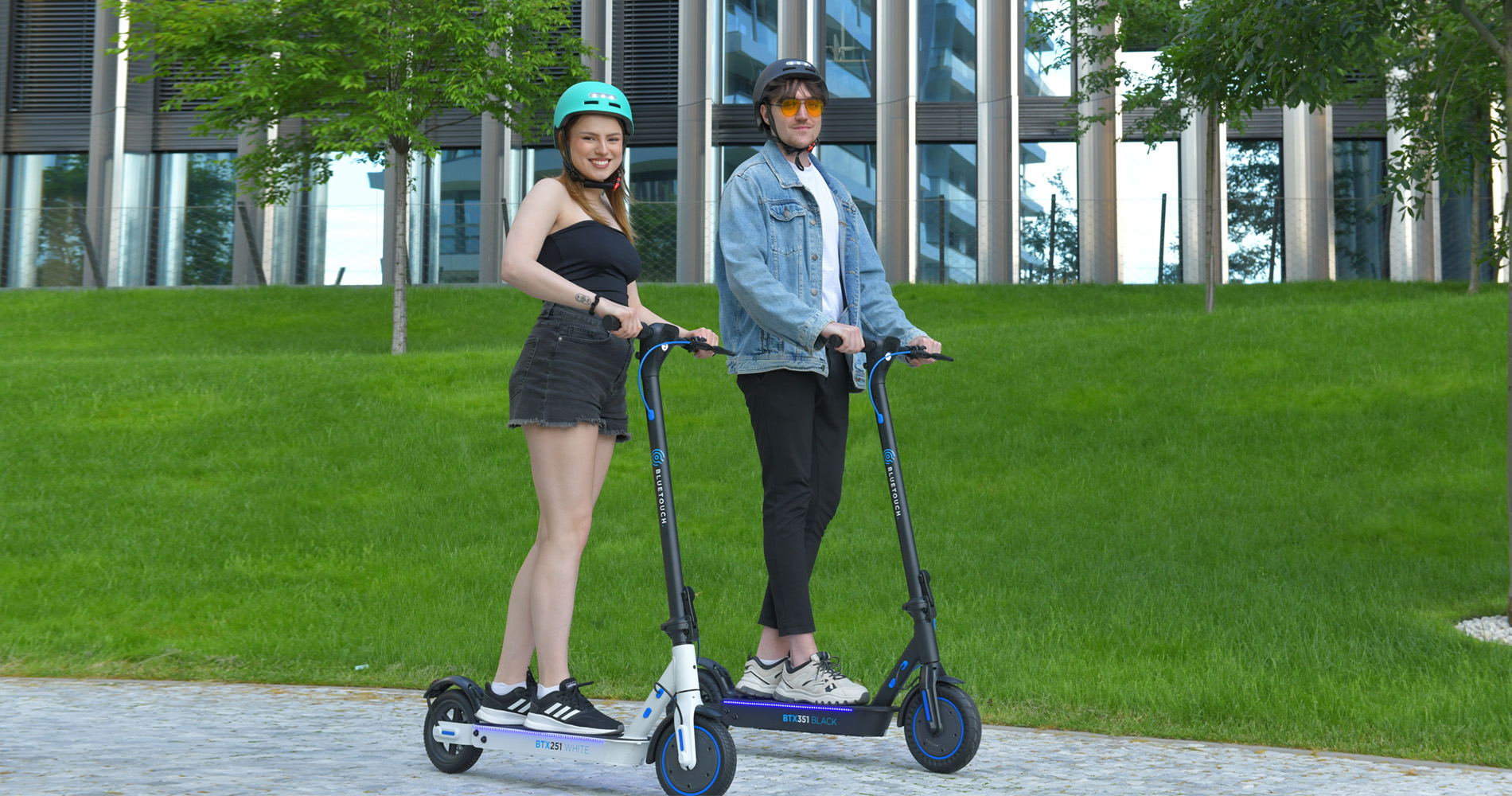 High-quality motor, stable battery, range up to 40 km
The BTX351 is equipped with a high-performance lithium battery, which guarantees a long-range, plus almost all the time the same power until the battery is completely discharged. The battery is electronically protected against overcharging and undercharging.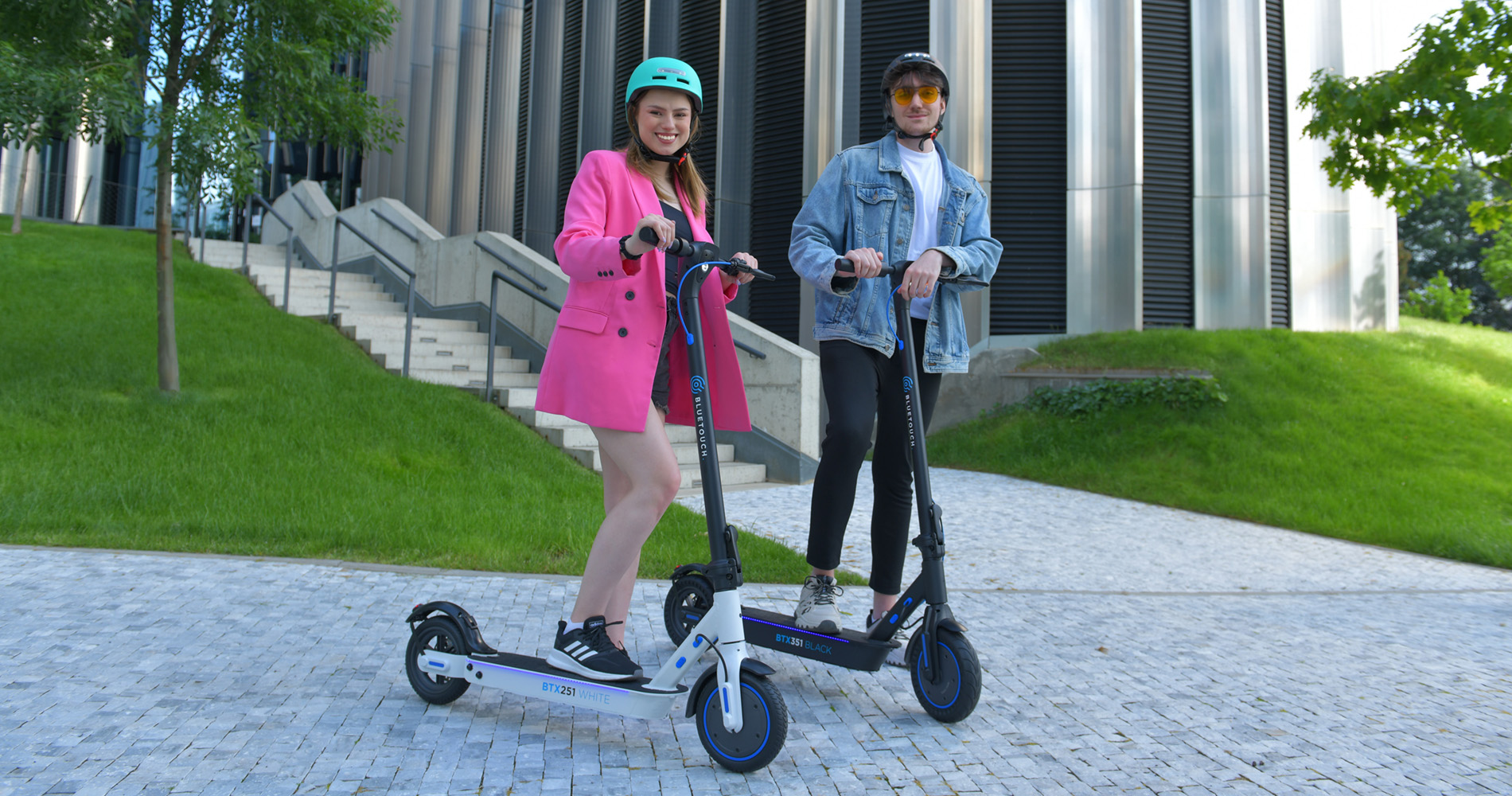 | | |
| --- | --- |
| Model of e-scooter | BTX351 |
| Colour | |
| Battery | 36 V/ 11,6 Ah, Li-Ion |
| Power | 350 W |
| Brakes | Rear disc brakes |
| Suspension | Rear tyre |
| Max. speed | 30 km/h |
| Distance | 40 km |
| Max. load | 100 kgs |
| Tyre | 10" tubeless honeycomb |
| Display | LCD with BLUETOUCH APP |
| Security lock | In aplication |
| Cruise control | Yes |
| Folding mechanism | Yes |
| LED backlit | Yes |
| Weight | 17 kg |